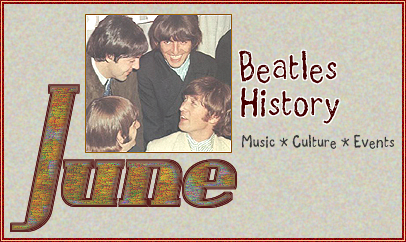 History offers
a chance
to truly
understand
how the past
impacts the now.


Follow our
daily timelime
of historical
events to
discover the
role The Beatles
played in changing
the modern world.
THE FOLLOWING EVENTS TOOK PLACE ON JUNE 1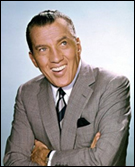 1971--Harry Nilsson begins recording his album Nilsson Schmilsson in London.

1971--Elvis Presley's birthplace in Tupelo, Mississippi, is opened to the public.

1971--The final "Ed Sullivan Show" is aired, ending an era that brought an amazing amount of talent to the attention of the American public.

1973--UK release of the Wings single, Live and Let Die / I Lie Around (Apple). 8 weeks on the charts; highest position #9.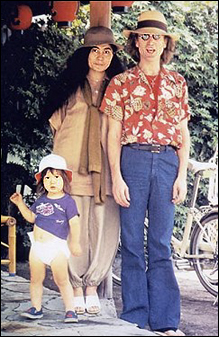 1977--John Lennon, Yoko Ono, and their three-year-old son, Sean, travel to Japan, where they will remain for five months.

1978--At the Plaza Hotel in New York, John Lennon and Yoko Ono visit Ronnie Wood and Charlie Watts of The Rolling Stones. The Lennons bring along a bottle of Scotch for Ronnie, as today is his birthday, but the Stone's guitarist doesn't have a chance to chat with John, as the former Beatle spends most of the evening asleep on the bed.

1980--Ted Turner's "Cable News Network" (CNN) begins its first broadcasting day.

1987--US re-release of The Beatles' album, Sgt. Pepper's Lonely Hearts Club Band on CD (Capitol). Released in stereo. The US CD version includes the "Inner Groove" and the 15 kc tone audible only by dogs. Both of these were excluded from the US vinyl LP (but were included on the UK LP).

1987--UK re-release of The Beatles' album, Sgt. Pepper's Lonely Hearts Club Band on CD. On this day, one could really say, "It was twenty years ago today..." Released worldwide on the 20th anniversary of the album's original release. As was done with the original LPs in 1967, the CDs were shipped on May 26 without changing the official release date.

2000--Beach Boys genius-founder, Brian Wilson, launches his official website with streaming audio feeds of songs from his latest double album, Live At The Roxy Theater.

For more day-by-day history go to HistoryUnlimited.net