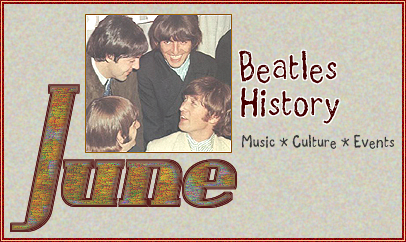 History offers
a chance
to truly
understand
how the past
impacts the now.


Follow our
daily timelime
of historical
events to
discover the
role The Beatles
played in changing
the modern world.
THE FOLLOWING EVENTS TOOK PLACE ON JUNE 27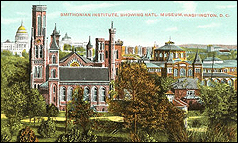 1829--James Smithson dies, and his will establishes The Smithsonian Institute.

1871--The yen becomes the new form of currency in Japan.

1885--Inventors Bell and Tainter apply for a patent for their new gramophone.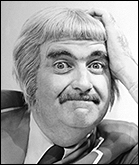 1927--Bob Keeshan, kiddie show host Captain Kangaroo, is born.

1954--The first atomic power station opens near Moscow, Russia.

1955--The first automobile seat belt legislation is enacted in the US.

1961--The Beatles perform at the Top Ten Club, Reeperbahn, Hamburg, West Germany.

1962--The Beatles perform at the Cavern Club at lunchtime and then again at night.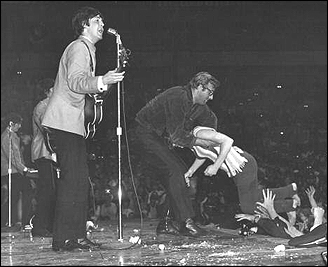 1963--Paul McCartney drops by a recording session of Billy J. Kramer and the Dakotas, who are recording two Lennon-McCartney songs, Bad To Me and I Call Your Name.

1964--The Beatles perform at the Majestic Theatre, Christchurch, South Island, New Zealand. Some New Zealanders hide in a closet to try to cut The Beatles' hair to impress their girlfriends. They are discovered, but they are able to get away down the fire escape.

1964--This week marks the first week since Beatlemania hit America that The Beatles do not hold one of the Top 10 positions on the charts. They will not appear in the Top 10 until July 25.

1965--The Beatles, touring in Italy, perform two shows at the Teatro Adriano in Rome.

1965--"Where The Action Is" debuts on ABC-TV. This marks the "beginning of the end" of The British Invasion.

1966--On a flight to Japan for five live concerts in Tokyo, The Beatles are forced to make an unscheduled stop in Anchorage, Alaska, because of a typhoon warning in Japan.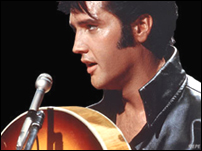 1968--The Beatles in the recording studio (Studio Two, EMI Studios, London). Recording Everybody's Got Something to Hide Except Me and My Monkey (7 takes).

1968--Elvis Presley begins filming his acclaimed comeback TV special "Elvis" at the NBC-TV studios in Burbank, California.

1969--Police raid the Stonewall Gay Bar in Greenwich Village, New York. About 400 to 1,000 patrons riot against the police for three solid days.

1971--The Fillmore East in New York City closes.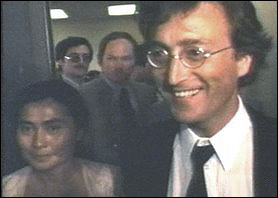 1976--After years of legal and politial battles, John Lennon finally receives his Green Card: number A17-597-321. Judge Ira Fieldsteel grants him residential status in the US and the right to apply for full citizenship in 1981. John had amassed a group of celebrity witnesses to speak in his favor, including Norman Mailer, Gloria Swanson, and Geraldo Rivera. Quizzed by the judge about his intentions, John says: "I hope to continue living here with my family and make music." Afterwards, a proud, short-haired, and formally dressed Lennon poses for photographers. He is amused to discover that his "green card" is actually blue. He says: "I have a love for this country. If it were 2,000 years ago, we'd all want to live in Rome. This is Rome now." John also affirms to the press that he will record again only when his son Sean is five years old. From this point on, John ceases his regular communication with the music press. When responding to a request for an interview by his media friend, Chris Charlesworth (the US editor for Melody Maker), he sends a postcard on which he writes: "I am invisible."

1980--Yoko Ono joins John Lennon in Bermuda. John performs the bulk of his new material, including an expletive-filled version of Serve Yourself (which is seething with anger and sarcasm), in an effort to win her approval. Yoko will stay with John for only two days, quickly returning to New York alone.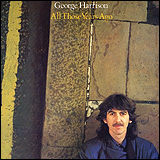 1981--George Harrison's single, All Those Years Ago, reaches #1 in the US singles charts.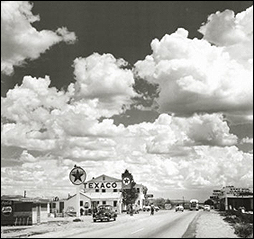 1982--John Lennon's friend, Harry Nilsson, writes and records With A Bullet, a song designed to raise funds for the National Coalition To Ban Handguns. Nilsson had been heavily involved in the campaign since Lennon's death.

1985--The legendary Route 66, which originally stretched from Chicago to Santa Monica, California, passes into history as officials decertify the road.

1999--Paul McCartney's first classical work, the semi-autobiographical Liverpool Oratorio is performed by the Royal Liverpool Philharmonic Orchestra in Liverpool Cathedral.

For more day-by-day history go to HistoryUnlimited.net