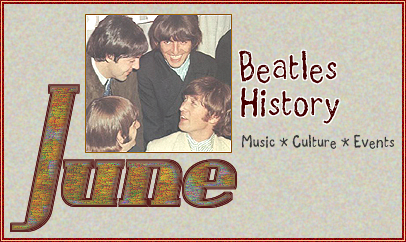 History offers
a chance
to truly
understand
how the past
impacts the now.


Follow our
daily timelime
of historical
events to
discover the
role The Beatles
played in changing
the modern world.
THE FOLLOWING EVENTS TOOK PLACE ON JUNE 22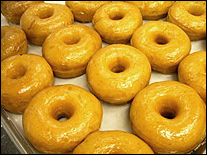 1772--Slavery is outlawed in England.

1847--The doughnut (or our modern-day donut) is created.

1944--Peter Asher is born in London, England. As one half of Peter and Gordon, he gave the world such hits as World Without Love and I Go to Pieces. His sister, Jane Asher, was Paul McCartney's girlfriend during the height of Beatlemania, and Paul wrote the duo's first three hits. In the 1970s, Asher became a superstar record producer for Linda Ronstadt, Diana Ross, Cher, Andrew Gold, and James Taylor.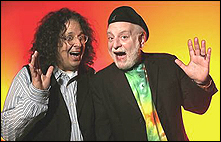 1947--Howard Kaylan, of The Turtles, is born in New York City. He first joined with Mark Volman in 1961 to form The Nightriders. After several name changes, they became The Turtles in 1965, and had hits such as It Ain't Me Babe (1965), Happy Together (1967), and She'd Rather Be With Me (1967). After The Turtles disband in 1970, Kaylan and bandmate Mark Volman joined Frank Zappa's Mothers of Invention, and formed the duo Phlorescent Leech and Eddie, later shortened to Flo and Eddie (Howard was Eddie and Mark was Flo). Howard has also written several novels.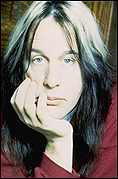 1948--Todd Rundgren is born in Upper Darby, Pennsylvania. He led the groups Nazz and Utopia and has produced albums for Meat Loaf, Badfinger, Grand Funk Railroad, and XTC. One of the most creative innovators of the "pop music" sound during the seventies, his biggest solo hit was Hello It's Me, which reached No. 5 on Billboard's Hot 100 in 1973.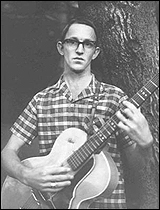 1957--The Quarry Men play from the back of a parked coal truck on Rosebery Street, Liverpool, during street celebrations marking the 750th anniversary of King John's issuance of a charter for the settling and development of Liverpool. A group of toughs from Hatherley Street threaten to beat up the group, especially "that Lennon," but The Quarry Men beat a hasty retreat when their performance is over, avoiding a fight. Rosebery Street wins newspaper awards for best-decorated street outside of the city center. The Rosebery Street residents celebrate with a second party, but The Quarry Men aren't invited back for a second appearance. [Note: Mark Lewisohn reports this event on June 22, as does Allen Wiener, but Ray Coleman gives the date as being May 24.]

1959--Chuck Berry releases his single, Memphis.

1961--Several Beatles scholars have set June 22-23, 1961, as the most probable dates for The Beatles' first professional recording sessions, which took place in Hamburg, West Germany, for producer Bert Kaempfert. Four Beatles participated (John Lennon, Paul McCartney, George Harrison, and Pete Best), while Stu Sutcliffe (who was really an ex-Beatle at this point) looked on. Backing Tony Sheridan, they recorded a rock version of My Bonnie Lies Over the Ocean, later issued as simply My Bonnie. This song was a popular request at the Top Ten Club from visiting seamen. Other songs recorded with Sheridan: When the Saints Go Marching In (released as simply The Saints), Why (Can't You Love Me Again) (a Tony Sheridan composition), Nobody's Child and Take Out Some Insurance On Me Baby (also known as If You Love Me Baby). There is debate as to whether this last song was recorded on June 24. The Beatles also recorded two songs without Sheridan: Ain't She Sweet (John Lennon sings lead vocal) and Cry For a Shadow (a George Harrison / John Lennon instrumental originally called "Beatle Bop"). When My Bonnie was released as a single in Germany in June 1961, it was credited to Tony Sheridan and the Beat Brothers, the name "Beatles" sounded too much like the German slang word "peedles" (penis). The single sold 100,000 copies in Germany, according to Bert Kaempfert.

1961--The Beatles perform at the Top Ten Club, Reeperbahn, Hamburg, West Germany.

1962--The Beatles perform at the Cavern Club at lunchtime and then again at night.



1963--While George Harrison, Ringo Starr, and Paul McCartney travel to Wales with road manager Neil Aspinall, John Lennon remains in London to tape an appearance on the very popular television program "Juke Box Jury." This show features a four-person jury reviewing new singles just released, the jury being selected to represent different areas of show business. On the "jury" with Lennon is TV personality Katie Boyle, actor Bruce Prochnik, and actress Caroline Maudling. John causes a bit of a stir when he states negative opinions of every one of the records being reviewed, whereas it was customary to be discreet about saying anything critical. For instance, in reviewing Elvis Presley's, Devil in Disguise, John says that Presley "now sounded like Bing Crosby." Due to John's comments and votes, all but one of the singles reviewed are voted to "Miss." The sole record judged to be a "Hit" is Presley's. The other songs 'judged' were: Cleo Laine's Southend; The Tymes' So Much In Love; Miriam Makeba's The Click Song; Tom Glaser's On Top of Spaghetti; Russ Conway's Flamenco; Paul and Paula's First Quarrel; and Julie Grant's Don't Ever Let Me Down. The taping of the program runs until 40 minutes before The Beatles are scheduled to perform in Wales. John is driven to Battersea Heliport, where a helicopter chartered at a cost of 100 pounds flies him to Abergavenny, arriving just in time for The Beatles' performance. The "Juke Box Jury" show is broadcast on June 29.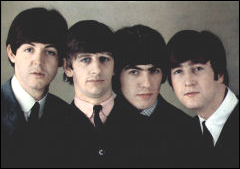 1963--The Beatles perform at Town Hall Ballroom, Abergavenny, Monmouthshire.

1964--The Beatles perform two shows at Town Hall in Wellington, North Island, New Zealand. For the first time since joining John Lennon, Paul McCartney, and George Harrison in Melbourne, Ringo Starr is able to sing the song, Boys, the song being added back to The Beatles' performance song list.

1965--The Beatles, on a two-week European tour, perform two shows at the Palais d'Hiver de Lyon, Villeurbanne, Lyon, France.

1966--Final mono and stereo mixing for The Beatles' album Revolver. Other titles considered for the LP are "Abracadabra," "Magic Circles," and "Beatles on Safari." Revolver is released in the UK on August 5, 1966.

1968--John Lennon is interviewed for BBC-TV. Among other subjects, he explains the different stages he lived through when writing his two books, "In His Own Write" and "A Spaniard In The Works."

1969--Judy Garland dies in London at age 47.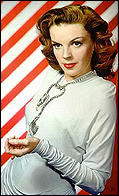 1970--President Richard Nixon signs legislation that lowers the voting age to 18.

1973--UK release of the George Harrison LP, Living in the Material World (Apple). Songs: Give Me Love (Give Me Peace on Earth), Sue Me, Sue You Blues, The Light That Has Lighted the World, Don't Let Me Wait Too Long, Who Can See It, Living in the Material World, The Lord Loves the One (That Loves the Lord), Be Here Now, Try Some, Buy Some, The Day the World Gets 'Round, and That Is All.

1980--John Lennon cuts double-tracked acoustic demos (on a Panasonic boom box) of Watching The Wheels (a song he'd been working on slowly for several years) and I Don't Want To Face It and Borrowed Time, both written in Bermuda. That night, Fred Seaman accompanies Lennon on a trip to the local nightclub, Flavors, where John hears the B-52's Rock Lobster for the first time. He remarks on its similarity to Yoko's work from the early 70s.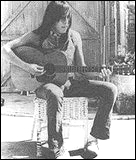 1998--Sir Paul McCartney personally chooses and arranges the 45,000 flowers that decorate Manhattan's Riverside Church in New York City, where the friends and family of Linda McCartney gather to say a candlelit good-bye to the wife of the former Beatle. Yoko Ono and Sean Lennon are not invited to the memorial service.

1988--Jesse Ed Davis, the guitarist whose work graced the solo recordings of John Lennon, George Harrison, and Ringo Starr, dies of an apparent drug overdose at his home in Venice, California, at age 43.

For more day-by-day history go to HistoryUnlimited.net