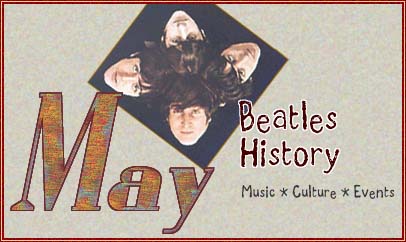 History offers
a chance
to truly
understand
how the past
impacts the now.


Follow our
daily timelime
of historical
events to
discover the
role The Beatles
played in changing
the modern world.
THE FOLLOWING EVENTS TOOK PLACE ON MAY 3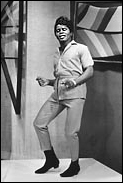 1802--Washington, D.C. incorporates as a city.

1851--Most of San Fransisco, California is destroyed by fire.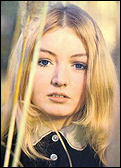 1928--"The Hardest Working Man in Show Business," James Brown, is born in Augusta, Georgia.

1941--A German air raid takes place over Liverpool.

1947--Japan forms a constitutional democracy.

1950--Mary Hopkin is born in Pontardawe, Wales. Her Top 40 hits include Those Were the Days and Goodbye. Paul McCartney wrote Goodbye and he produced all of her hits. She was one of the most successful artists signed to Apple, with her first album, Postcard, proving to be a big hit.

1961--The Beatles perform at the Top Ten Club, Reeperbahn, Hamburg, West Germany.

1962--The Beatles perform at the Star-Club, Hamburg, West Germany.

1963--Martin Luther King, Jr. delivers his "I Have a Dream" speech, adding fire to the Civil Rights Movement.

1964--The British Invasion continues as Gerry and the Pacemakers perform Don't Let the Sun Catch You Crying on "The Ed Sullivan Show."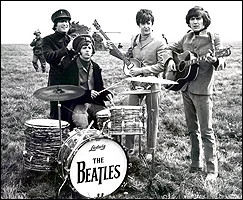 1965--The Beatles film scenes for the movie, "Help!" Location shooting on the Salisbury Plain at Knighton Down, Larkhill, Wiltshire. For this and the following two days, they shoot scenes that include the I Need You sequence. Actual British troops (3rd Division) participate in the filming.

1965--The "Today Show" is the first to use satellite TV (the Early Bird Satellite).

1967--The Beatles in the recording studio (Studio Three, EMI Studios, London). Overdubbing of trumpets onto Magical Mystery Tour. The trumpeters are David Mason, Elgar Howarth, John Wilbraham, and Roy Copestake.

1968--The Beach Boys open a 17-date tour of the US with a show in New York City. The second half of the concert is given over to the Maharishi Mahesh Yogi, who lectures on "spiritual regeneration." The audiences reaction is so negative, more than half of the tour dates are cancelled.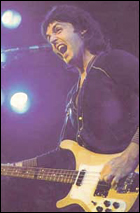 1969--The Beatles' single, Get Back, reaches #1 in the UK charts.

1971--The Nixon administration arrests 13,000 anti-war protesters in three days.

1976--Paul McCartney makes his first concert appearance in America in almost ten years as his group, Wings, commence their "Wings Over America" tour in Fort Worth, Texas.

1978--In New York, a fire on one of John Lennon's farms in the community of Franklin, completely demolishes the barn, garage, and tool shed.

1981--In England, an interview with Yoko Ono is published in The Times.

For more day-by-day history go to HistoryUnlimited.net