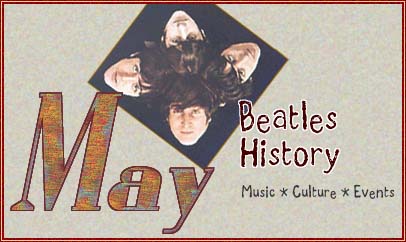 History offers
a chance
to truly
understand
how the past
impacts the now.


Follow our
daily timelime
of historical
events to
discover the
role The Beatles
played in changing
the modern world.
THE FOLLOWING EVENTS TOOK PLACE ON MAY 21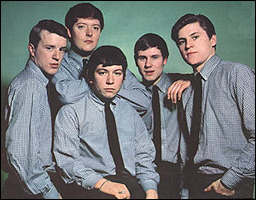 1471--King Henry VI is murdered in the Tower of London during England's Wars of the Roses. Edward IV resumes the throne.

1819--Bicycles are first seen in the US in New York City. They are originally known as "swift walkers."

1943--Hilton Valentine, guitarist for The Animals, is born.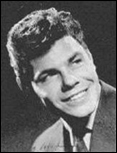 1960--The Silver Beetles, on a tour of Scotland backing singer Johnny Gentle, perform at the Northern Meeting Ballroom, Inverness, Inverness-shire. They have to play in an upstairs ballroom while the older folks stay downstairs and participate in "old tyme dancing" to the music of traditional bandleader Lindsay Ross and his Famous Broadcasting Band. The Silver Beetles had also been booked to headline in their first advertised professional engagement this night at Lathom Hall, Seaforth, Liverpool, for promoter Brian Kelly. When the Silver Beetles left on their disappointing tour, they neglected to tell Kelly of their change in plans, and Kelly was left with a hall full of patrons, but not his advertised attraction. It later will take a lot of persuasion on the part of Bob Wooler to get Kelly to agree to let the group perform at Litherland Town Hall Ballroom on December 27 (as The Beatles, their name having been changed for the last time in mid-August 1960), and Kelly probably only agreed as a favor to Wooler. The December 27 performance will prove to be a significant one for The Beatles.

1961--The Beatles perform at the Top Ten Club, Reeperbahn, Hamburg, West Germany.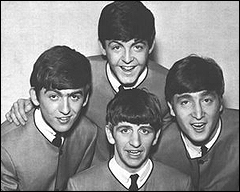 1962--The Beatles perform at the Star-Club, Hamburg, West Germany.

1963--The Beatles, at the Playhouse Theatre in London, record two BBC radio programs for later broadcast. First they tape an appearance for the program "Saturday Club," their first appearance on that important show as top of the bill. They perform I Saw Her Standing There, Do You Want to Know a Secret, Boys, Long Tall Sally, From Me to You, and Money. The show was broadcast on May 25, and the last three songs are included in the portion of the program that is broadcast overseas. The Beatles are also interviewed, and they show themselves to be personable and witty. The second radio program that they record this day is for the show "Steppin' Out," which is taped before a wildly enthusiastic audience. The Beatles perform six songs, Please Please Me, I Saw Her Standing There, Roll Over Beethoven, Twist and Shout, Thank You Girl, and From Me to You. Twist and Shout was edited out of the final program tape. This show was broadcast on June 3.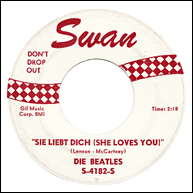 1964--US release of The Beatles' single, Sie Liebt Dich / I'll Get You (Swan). The German-language version of She Loves You. 1 week on Billboard chart; highest position #97.

1965--John and Cynthia Lennon fly to France for the Cannes Film Festival.

1967--Brian Epstein temporarily leaves Priory Hospital, in Putney, for an afternoon tea with his parents at 24 Chapel Street.

1968--Cynthia Lennon returns from her holiday in Greece to discover her husband, John, and Yoko Ono sitting calmly in dressing gowns in the kitchen of the Lennon's home. She quickly realizes that Yoko is wearing one of her gowns. "Oh, hi," says Lennon distractedly. Yoko is silent. Cynthia flees in panic, aware that her marriage is over. As a form of escape, she spends the night with Apple's electronics "wizard" Alex Mardas, unaware that this was a setup so that John could claim adultery on her part as reason for their divorce. Despite this troubling series of events, Cynthia returns a few days later to Kenwood, and the Lennons' life briefly continues as if nothing had happened.

1975--A television special, "Beatles Special with Host David Frost," is broadcast in the US.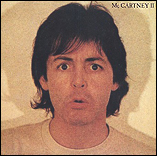 1980--To coincide with the release of Paul McCartney's album, McCartney II, John Lennon releases a statement revealing his plans to cut his last links with The Beatles by selling his quarter share in Apple. His statement jokes: "I have been inundated with calls from investors wishing to buy my quarter share. The phone hasn't stopped ringing." Yoko emphasises the reason behind John's decision: "We are both artists and we are really big into being a family. Those are the things that we care about. We've bought a good-sized boat and we will live comfortably on it." John concludes the statement by saying that he wishes to "sail off into the sunset with Yoko and Sean."

1990--Notorious record executive Morris Levy dies. He owned the Birdland club, copyrighted the phrase "rock 'n' roll" after making friends with Alan Freed, and even sued John Lennon because he thought Come Together sounded too much like a Chuck Berry song to which he owned the rights. Levy ended up releasing his own version of John's Rock 'n' Roll album, called Roots, which was sold through television ads before Lennon took him to court over the matter (with successful results).



1999--British comedy star, Norman Rossington, dies at the age of 70 in a Manchester hospital. The veteran character actor had been battling cancer for the last six months. He is well-known for his role as "Norm," the nerve-wracked Beatles road manager in "A Hard Day's Night."

For more day-by-day history go to HistoryUnlimited.net